We love local produce and enjoy catering for special diets
When you stay with us we have no fixed menu. Thats because one of the first things Anne will discuss with you is what you enjoy eating – and if you have any special requirements which she can assist you with.
We took this shot of a mornings breakfast spread – but do let us know what you want!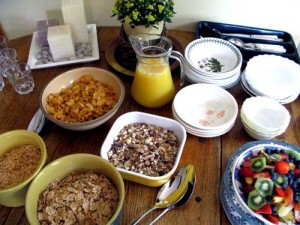 Have breakfast while looking out on the garden.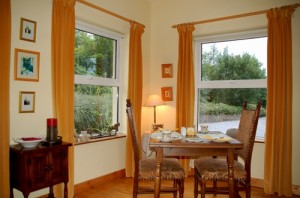 Breakfast Menu
Making a Booking
It is possible for you to book Gormagh Bed and Breakfast  Accommodation through our secure online booking facility on this website using 'Book Online Now' facility opposite and you will receive instant e-mail confirmation for your B&B booking. You are also welcome to contact the B&B directly using the contact details or enquiry form on our Contact Us webpage.
Kilbeggan Organic Porridge  Glenisk Yogurts  Grennan's Butchers G jams